Thomas J. Rusk Middle School
Return to Headlines
The Dallas ISD Board of Trustees, district leadership and community members gave a standing ovation to the 13 Dallas ISD schools that diligently worked to improve student performance last school year and, as a result, are no longer on the list of the state's lowest-performing schools. Thomas J. Rusk Middle School is a part of the list of schools that Met Standard.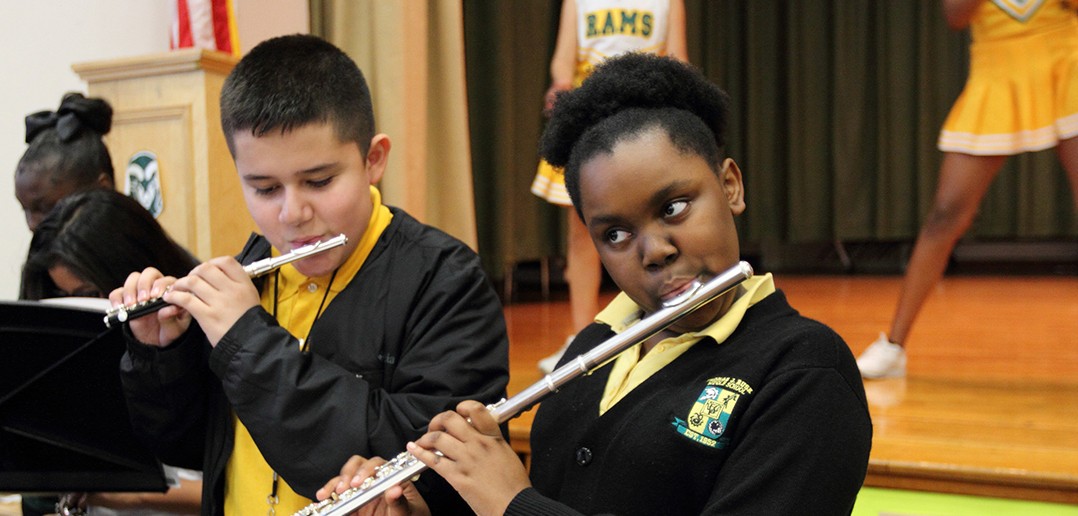 As part of a radio contest, Ms. Rosa Turnbull made it possible for our school to bring actor and singer Max Schnidder. Our students had a great time hearing Max live and interacting with him.
Rusk Middle School educator a finalist for $1 million teaching prize
The Varkey Foundation awards the annual $1 million prize to underline the importance of educators. Mr. Patel's dedication to teaching is being nationally recognized: he is a top 50 finalists for the Global Teacher Prize. This annual $1 million teaching prize recognizes a classroom teacher who exemplifies global citizenship teaching and learning.
Educador en Rusk Middle School es finalista para premio de $1 millón
The Varkey Foundation otorga este premio anualmente para destacar la importancia de los educadores. La dedicación del maestro Patel será reconocida a nivel nacional, ya que está entre los 50 finalistas para el Global Teacher Prize, un premio anual de $1 millón que reconoce a un maestro que convierte a sus estudiantes en ciudadanos globales a través de su enseñanza.
Rusk Middle keeps designation as AVID demonstration school
After a thorough review, Rusk once again earned a designation as an AVID National Demonstration School. This time, the renewed certification won't expire for three years, which is the longest time period granted.
Universal McCann Impact Day volunteer at Thomas J. Rusk
About 30 employees from Universal McCann, an advertising agency, spent a recent day beautifying Thomas J. Rusk Middle School by painting inspirational quotes, a school crest, and more.